Fall 1991: H.M.S. Pinafore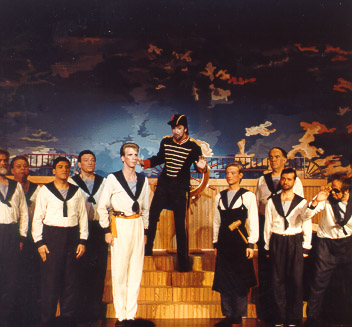 Notes
When Gilbert and Sullivan's "Entirely Original Nautical Comic Opera" H.M.S. Pinafore was first performed on May 25, 1878, its author and composer had known each other nearly a decade, having produced Thespis in 1871, Trial By Jury in 1875, and The Sorcerer in 1877. All three were successful, but none could compare to the tremendously successful Pinafore.
It was Gilbert's happy idea to set a satirical comic opera on board a British naval ship. For the story of Ralph Rackstraw, "the smartest lad in all the fleet," who falls in love with his captain's daughter Josephine despite their difference in social standing, Gilbert quarried several of his earlier "Bab Ballads." In the character of the pompous Sir Joseph Porter, KCB, he satirized the current Lord of the Admiralty, W.H. Smith, who owned his eminent position more to political influence than to any knowledge of ships. The librettist also researched naval uniforms and ships thoroughly, ensuring absolute accuracy in the scenery and costumes — the better to set off the ridiculousness of the story.
Despite suffering excruciating pain from a kidney stone, Sullivan wrote a tuneful and breezy score that contains more "hits" than any Gilbert and Sullivan operetta except The Mikado. Sullivan drew on musical idioms ranging from sailors' shanties and hornpipes, to pompous Handelian recitatives and airs, to sprightly dances and patter songs. With Pinafore, the forms and norms of "G & S" were set; over the next decade and more, librettist and composer would continue to combine the satirical and the sentimental in high style.
It's hard to see how Pinafore could miss, but it almost did. Audiences liked it, but unusually hot summer weather kept London's theaters empty and nearly sank the Pinafore. But after Sullivan conducted highlights from the show at a summer promenade concert, delighted audiences flocked to the Opera Comique for 700 performances. Operetta historian Richard Traubner states that Pinafore remains even more popular in America than in Britain. Its American career also began in 1878, with a New York performance by a pirate company, whose success was soon put in the shade by an authorized British company (accompanied by Gilbert and Sullivan themselves). Within a year or two, nearly a hundred Pinafore companies were treading the boards in Negro versions, children's versions, even a Yiddish version. The saucy ship is still afloat, whether in opera houses with full chorus and orchestra, or in school auditoriums and church halls with piano and will probably sail the ocean blue forever.

Director: Scot Zaffora-Reeder
Choreography: Mary Ellen Carver, Mary Kelley
Producer: Julia Ferreira
---
Cast
The Rt. Hon. Sir Joseph Porter, K. C. B.

Captain Edward Corcoran, RN

Ralph Rackstraw

Dick Deadeye

Bill Bobstay (Boatswain's Mate)

Bob Becket (Carpenter's Mate)

Josephine

Hebe, Sir Joseph's Cousin

Little Buttercup
Chorus
Ted Benedict, Terry Benedict, Jim Caffrey, Fran Carlisi-Paxson, Bob Caroccio, Mary Ellen Carver, Mary Lynne Conti, Nancy Denber, Christine Dettman, Peter Dunbar, Nancy Galletto, Brad Gundlach, Bill Hammond, Mary Kelley, Jordu Kelly-Sutliff, Jimmie B Lobaugh, Mary Carol Maloney, John McCrank, Patti Anne Montrois, Molly Moore, Dana Paxson, Linda Remley, Robert L. Remley, Bob Weeks, Paul Wilson, Mary Zwierzynski-Slack
Orchestra
Flute

Keyboard
---
Crew
Props

Set Designers

Lighting Designers

Photography

Publicity