Fall 2021: H.M.S. Pinafore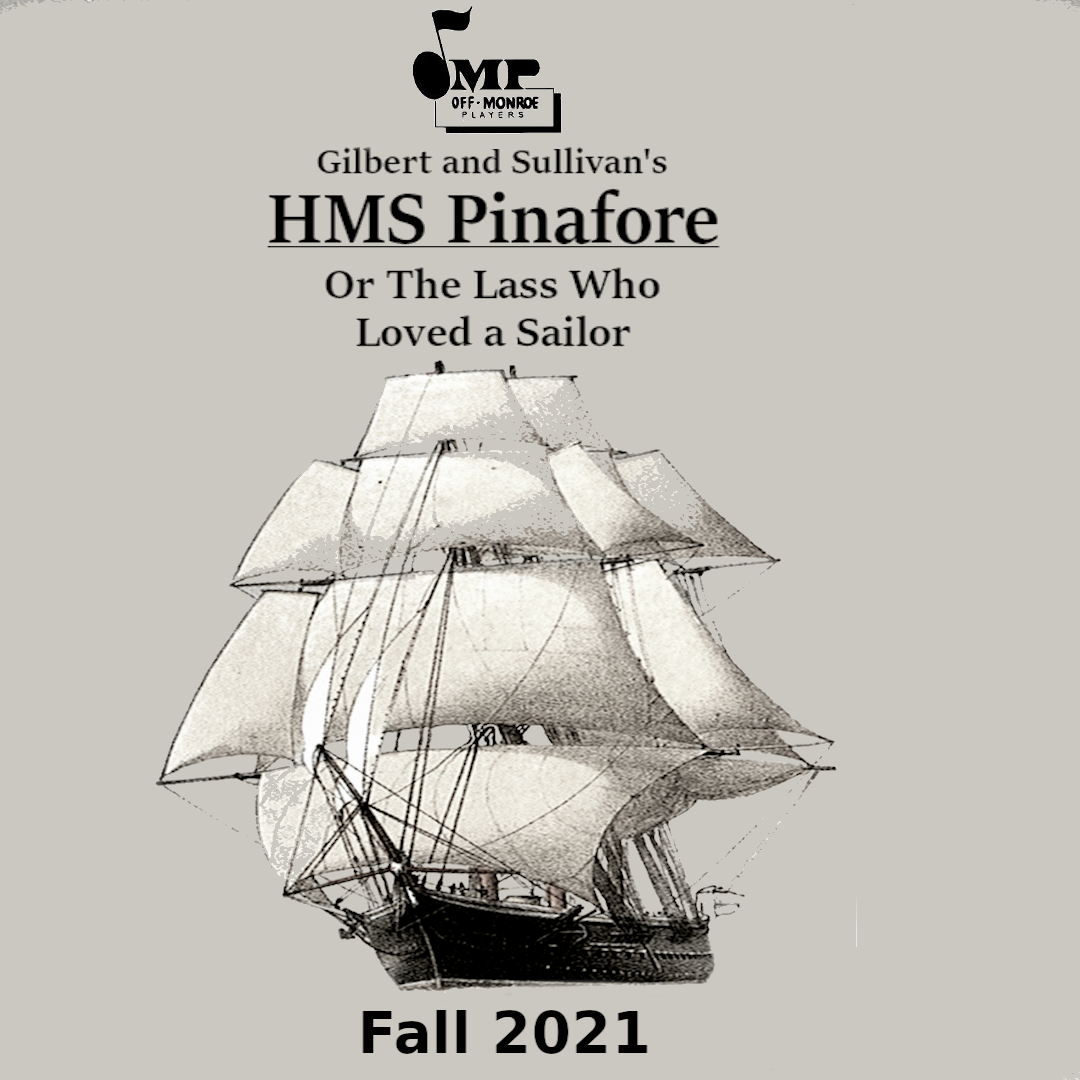 Notes
The news we have been so anxiously awaiting: the outcome of auditions. We were so thrilled - and so challenged! - by all of the superbly talented individuals who came out to demonstrate their talent for us. Indeed, we are not sure our directors have ever had such difficult decisions to make, as evidenced by the amount of time it took to finalize the list. Our heartfelt thanks to all who auditioned; we feel blessed and so grateful to have had such hard decisions! Again, thank you to all who came out.
Rehearsals for leads will begin on Tuesday, August 3, and continue just on Tuesdays through August, all at St. Charles Boromeo Church. Rehearsals for the full ensemble will begin Tuesday, Sept. 7, at 6:30 at the Off-Monroe Player's home base, Downtown United Presbyterian Church, 121 N. Fitzhugh St, 14614.
Remember all are welcome in the Chorus, and we love having both new and familiar faces in our choruses! To let us know you're interested, please fill out this Google Form any time before Sept. 7, and then plan on attending the first ensemble rehearsal at the Downtown United Presbyterian Church, 121 N. Fitzhugh Street, on September 7 at 6:30 p.m. (If you can't make the first rehearsal, don't worry - just note that in the form.)
PLEASE NOTE: You must be fully vaccinated to participate in this show. We appreciate your understanding.
Looking ahead: Rehearsals are generally Tuesdays and Fridays from 6:30-9:00pm. Not everyone will be called for every rehearsal.
Dress rehearsals will be Nov. 1, 2, and 3. Performances will be the first two weekends in November: 5, 6, 7, and 12, 13, 14. Fridays and Saturdays at 7:30 p.m., Sunday matinees at 2:00 p.m. Reservations will open October 15th.
Please also note that all plans are "Subject to change," as we are still dealing with a world that is not Covid-free yet.

Directors: John Cieslinski, Patti Anne Montrois
Music Director: Marcia Sheremeta
Producers: Liz Burke, Christopher Garver, Katie Garver, Edward Medina-Torres
---
Cast
The Rt. Hon. Sir Joseph Porter, K. C. B.

Captain Edward Corcoran, RN

Ralph Rackstraw

Dick Deadeye

Boatswain

Carpenter's Mate

Josephine

Hebe, Sir Joseph's Cousin

Little Buttercup
Chorus
Robert Avel, Terry Benedict, Liz Burke, Katarina Ireland, Ellen Karnisky, Miriam Lerner, Rachel Lockhart, Valerie McCall-Gill, Aaryn Miller, Thomas Moore, Doug Noble, Marie Pellett, David Raymond, Laurel Schneiderman, Martin Schneiderman, Leslie Tabin, Ruth Tushingham, Clara Weinert, Peter L. Zavon