See a Show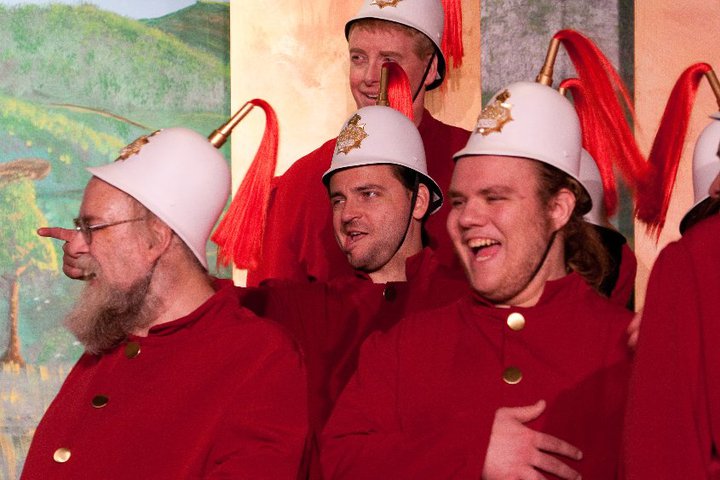 Our show runs are generally the first two weekends of May and the first two weekends of November. In 2012, we added the "winter plays" — short plays by W.S. Gilbert or Sir Arthur Sullivan (singly), or their contemporaries — which we put on for two weekends in January. All shows are usually performed at Downtown United Presbyterian Church, 121 N. Fitzhugh Street, near City Hall. We have ample parking, and security personnel on hand to help you park and find your way inside should you need assistance.
Attending an Off-Monroe Players' show is easy - both on you and your pocketbook!
Admission is free, there are no tickets or reserved seats.
However, we like it when you call our reservation line (585.232.5570) or make a reservation online, so we can be sure to set up enough chairs, and have enough cookies and other treats for your pre-show and intermission enjoyment.
If you forget to reserve - c'mon down! Walk-ins are always welcome and we will find room for you.
Doors open 1 hour before curtain, and refreshments are available pre-show and at intermission (at just $ 1.00 each!)
With free admission, you can bring the whole family, and come back several times if you want.
Speaking of the family, Off-Monroe Players' shows are all family-friendly: light-hearted, funny, just-dramatic-enough, full of beautiful music, and the guy always gets the girl at the end. (The Victorians proved that a show could be both riveting and diverting without a single bad word or questionable activity.)
And unlike other free things where you get what you pay for... we guarantee you will be impressed at the quality of the singing, acting, and costumes in any Off-Monroe Players' performance you attend. Come see a show and see for yourself!