Esther Handleman Vail
Founder, Off-Monroe Players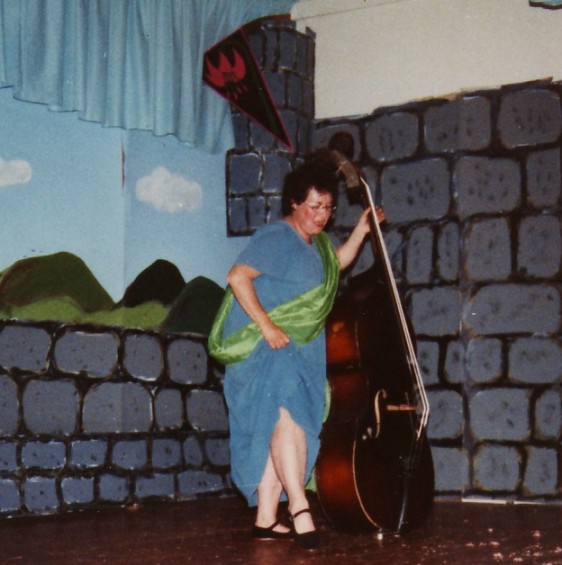 Esther Handleman Vail was familiar to many Rochesterians as an announcer and commentator on WXXI radio. But many might not know that in 1977, while working part-time as piano accompanist for Ed Charbonneau's dance class at New Life Presbyterian Church, Esther Vail noticed that New Life's sanctuary provided a ready-made set for Gilbert & Sullivan's Trial by Jury. A lifelong Savoyard, Esther recruited a cast of no-experience amateurs from the New Life choir and surrounding Upper Monroe neighborhood, and directed our first production. We had all signed on assuming it was a one-time event, but the fun we shared demanded an encore, and a year later we enthusiastically regrouped for The Mikado. When it became apparent that this would be a continuing enterprise, Esther came up with the name Off-Monroe Players (from New Life's location on Rosedale Street just off Monroe Avenue), and debate raged for some weeks over whether to hyphenate or not!
In the years that followed, Esther directed our first HMS Pinafore, she was our first "Katisha" (Mikado), our first "Lady Jane" (Patience), our first "Duchess of Plaza-Toro" (Gondoliers), and our first "Queen of the Fairies" (Iolanthe). For several years, we continued with once-a-week rehearsals, one production a year, and only three performances, in mid to late May. We chose directors by consensus (and coaxing, if necessary), and always managed to find a piano player (in those days, it was usually Carol Tennenbaum). Esther's intelligence, humor, and unflagging goodwill guided us through the rough spots when OMP's continuing existence was by no means a sure thing.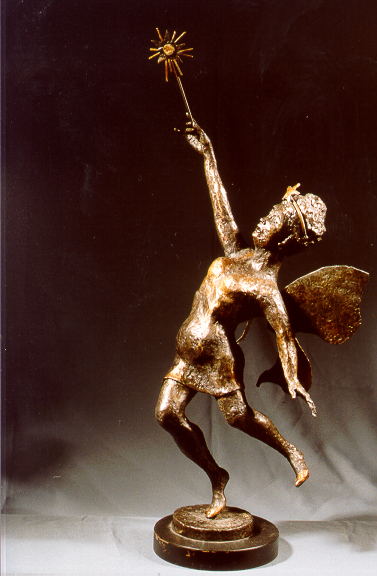 Under Esther's leadership, we agreed to charge no admission (which kept budgets in the low two figures), and to welcome anyone who wished to participate. And we all came to share Esther's belief — which she expressed with irresistible enthusiasm — that a group of grassroots amateurs gathering to learn, rehearse, and perform Gilbert & Sullivan could make a valuable contribution to the community's cultural life; and that if we had fun, our audience would, too.
In the course of over thirty years, OMP has performed all the Gilbert & Sullivan operettas, as well as works by other composers and playwrights (including local talent), and a series of Children's Theatre productions. We've had enough community support to perform two (and sometimes three) productions a year, and to form the Gilbert & Sullivan Revue. We've moved to a larger hall; our budgets, number of performances, and audience have grown; our productions are more elaborate. But in all essentials, OMP remains a reflection of Esther's vision.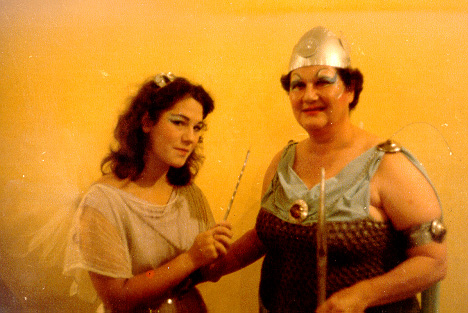 In 1996, we had to say a sad good-bye to our founder, Esther Vail. Sorrow was something Esther would not have wanted, and OMP has chosen instead to celebrate her contribution to Rochester's cultural life. A tribute to the memory of Esther Vail was unveiled in September of 1997 at our Twentieth Anniversary Gala Ball. Constructed by local artist Achille Forgione, the statue will always be on display during an OMP production. The pose is Esther as "The Queen of the Fairies" from Iolanthe. One can almost imagine her still "tripping hither, tripping thither."
As we continue into the next millenium, we remember the fun, the friends, and the joy we've shared. We welcome new cast and crew members to our family, we welcome back those who have moved on to other pastures, and we welcome you, our audience, to join in the revelry. In doing so, we honor the memory of Esther, for that joy is her legacy.