Get on Stage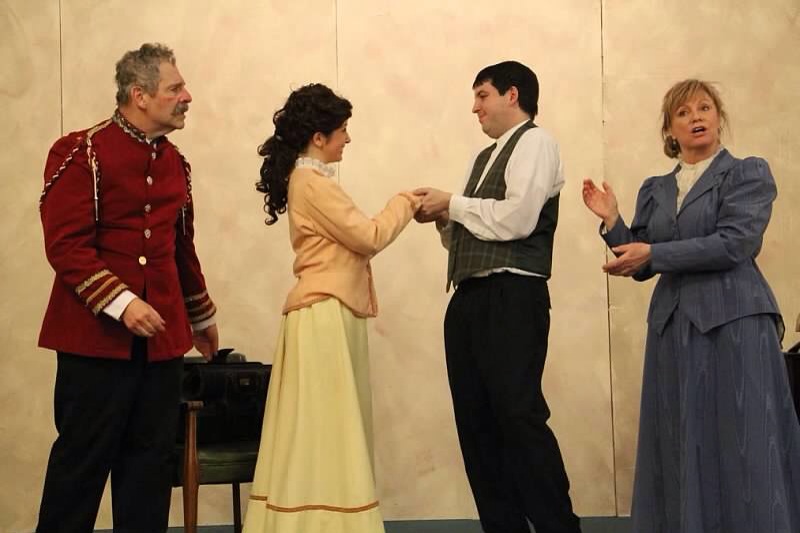 So you want to be on stage, but don't quite know where to start? We want you to join us. There are two easy steps:
If you want to be part of the chorus, just show up for the first night of rehearsals.
If you want a principal role, prepare a song from any Gilbert & Sullivan show, or any song in English. Watch the website's event section for audition and rehearsal announcements.
That's all there is to it. Off-Monroe Players is committed to making theater accessible to as many people as we can reach, and that includes new performers, too.
In our thirty-plus years of performing, Off-Monroe Players has had many different kinds of people join our ranks, from seasoned performers who audition for multiple shows at a time, to those that have never before been on stage because they'd been too shy to try before. We have members that have been with us since we were founded and we have members that are new to our group with each performance. Some of us are even related — we have entire families that perform together.
"Your heart is beating wildly in your chest and you're unsure if you can even feel your toes. The music swells as it reaches the end of the overture, and all of a sudden the curtain is rising and the lights are coming up. You take a deep breath. It's show time... there's nothing else quite like it… but your friends are right beside you, and you know it's just going to rock. It's an amazing experience.'

— Christi Marriott, member since 2012.
We perform three times throughout the year: during our spring and fall operettas, and our winter one-act plays. We always post information on our website and on Facebook when we're holding auditions for a show, and that's your cue! If you're not comfortable auditioning for a role, then becoming a member of the chorus is just as easy and there's no audition necessary.
We know that getting on stage can sometimes be daunting, but we're here to make it a fun experience. We encourage new talent to come forward and show us their stuff. Come join the fun and play with us! We'll welcome you with open arms.