OMP at Fringe - Less Miserable!
Published: July 16, 2022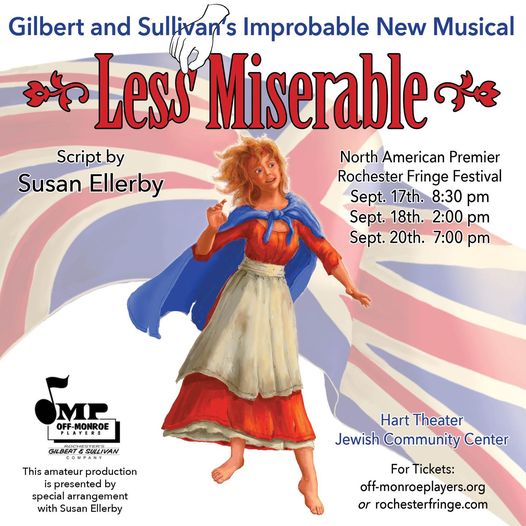 It's all happening! OMP will be part of Rochester Fringe Festival 2022!
We are thrilled to present Gilbert and Sullivan's Improbable New Musical: "Less Miserable" Written by Susan Ellerby (using Songs and Music from the works of W.S. Gilbert and Arthur Sullivan).
Please tell everyone (including your sisters and your cousins and your aunts!) and spread the news!
DATES: September 17th at 8:30pm, September 18th at 2:00pm, September 20th at 7:00pm.
Please NOTE!! The Sept 18th show will be ASL interpreted AND There will be an Author Talk Back AFTER this performance!
LOCATION: JCC Hart Theater - 1200 Edgewood Avenue Rochester, NY 14618
TICKETS: We strongly encourage you to purchase your tickets early. Here is the link to take you right to the Fringe Ticketing site:
Get Tickets for OMP's Fringe Show!
« View All News