So you want to audition for Iolanthe?? - Here' s more info!
Published: January 13, 2023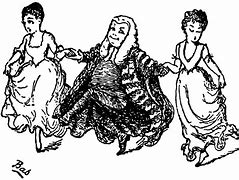 Off-Monroe Players Spring 2023
Iolanthe Audition Information Director - Luane Davis Haggerty, Musical Director Dr. Alex Kuczynski Iolanthe or the Peer and the Peri - W. S. Gilbert and Arthur Sullivan Auditions = January 26, 28, 2023 (details below) Auditions are for Principal roles, chorus may sign up at auditions or attend the first rehearsal on January 30, 2023 at 6PM. Performances: May 12, 13, 19, 20 - 7:30PM, May 14, 21 - 2:00PM Rehearsals and performances are at Downtown United Presbyterian Church, 121 Fitzhugh St. N, Rochester, NY
( Regarding age limit, officially OMP has over 14, but cast members between 14 and 18 must have a parent/guardian a member of the cast or present at all rehearsals.) We haven't had that on audition information, and addressed this at auditions if younger persons auditioned.)
Synopsis: Since its sparkling 1882 premiere at London's new Savoy Theatre (the first to be fitted with electric lights, making all manner of magical effects possible), the fantastical satire Iolanthe has delighted audiences with its clever combination of romance, humor, political satire, and the memorable musical numbers that made Gilbert and Sullivan household names. The titular character Iolanthe is a fairy who has committed a capital offense by marrying a mortal; rather than being killed, she was instead banished from the fairy kingdom, never to see her husband again. Twenty-five years later, at the start of the show, the fairies still miss Iolanthe deeply and convince the Fairy Queen to allow her to return. Iolanthe reveals that she bore her mortal husband a son, Strephon, who is a fairy down to the waist but has mortal legs. Strephon also happens to have fallen in love with the Lord Chancellor's beautiful and much sought-after ward, Phyllis, who loves him in return but does not know of his mixed lineage. Strephon enlists his mother and the rest of the fairies to help him win his lover's hand by convincing the Lord Chancellor (who loves Phyllis himself) and the government to allow them to marry. Seeing Strephon in the company of a young woman (fairies do not age, and so Iolanthe looks to be a girl of seventeen), the Peers try to convince Phyllis that her love is being unfaithful, and as punishment, the fairies make Strephon a member of Parliament, magically able to pass any bill he wants. In the meantime, the fairies all fall in love with members of the House of Peers, and the Fairy Queen finds herself with a political and moral mess on her hands. In true Gilbert and Sullivan fashion, the tangled plot unravels and all ends well. This beloved classic is still a timeless favorite of light opera companies, schools, and concert stages all over the world.
Audition specifics:
Audition: January 26 6:00pm - 8:30 Celebration Hall, January 28 10-12 Shaw (rehearsals begin January 30 full schedule available at audition) a Gilbert and Sullivan piece (if you already have a piece from Iolanthe prepared that would be a nice choice) looking for strong vocal quality and skill with humor, and ability to express the character. Interested in all types, genders, ethnicities and abilities. Please bring photo/resume if you have one. If not we will want to take a picture and have you fill out a form. Prefer in person audition but if an alternative is needed send a link to your recorded audition to lrdnpa@rit.edu ( any questions can be directed to Luane Davis Haggerty, Director of Iolanthe.) Be sure to let us know of other theatrical skills you may have: dance, juggling, gymnastics, ASL, etc.
Rehearsals: Monday, Tuesday and Thursday 6:00 - 8:45PM
First rehearsal - Sing Through January 30, 2023 at 6:00PM
Cast list:
Phyllis GENDER: Female PART SIZE: Lead VOCAL PART: Soprano
Iolanthe GENDER: Female PART SIZE: Lead VOCAL PART: Mezzo-Soprano
Strephon GENDER: Male PART SIZE: Lead VOCAL PART: Baritone
Celia GENDER: Female PART SIZE: Supporting VOCAL PART: Soprano
Leila GENDER: Female PART SIZE: Supporting VOCAL PART: Mezzo-Soprano
Queen of Fairies GENDER: Female (comedy diva similar to Margaret Dumont) PART SIZE: Supporting VOCAL PART: Alto
Lord Tolloller GENDER: Male PART SIZE: Supporting VOCAL PART: Tenor
Lord Mountararat GENDER: Male PART SIZE: Supporting VOCAL PART: Baritone
Lord Chancellor GENDER: Male PART SIZE: Supporting VOCAL PART: Baritone
Private Willis GENDER: Male PART SIZE: Supporting VOCAL PART: Bass
Fleta GENDER: Female PART SIZE: Featured VOCAL PART: Spoken
Ensemble GENDER: Either or Both PART SIZE: Ensemble VOCAL PART: Variety
« View All News