Join us for the Holidays!
Published: November 30, 2020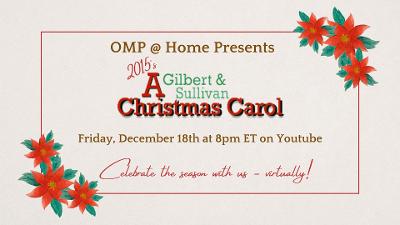 We are pleased to present as a holiday gift the 2015 OMP production of "A Gilbert and Sullivan Christmas Carol" by librettist Gayden Wren. It is our hope that we can bring about some merriment and cheer at this time of year.
To quote Gilbert: "Life's a pleasant institution, let us take it as it comes." We have been 'taking it as it comes' for many months now, and OMP is looking forward to 2021 when we can all gather for live performances at our new home at the Downtown Presbyterian Church 121 N. Fitzhugh St. ~ 14614
In the meantime, enjoy this production our gift to you this season. Best Wishes to all for a Happy Holiday Season and New Year.
Brian Smith, President Off-Monroe Players
Streaming begins at 8:00 pm December 18th, 2020 Video will be played after a short introduction You may join late, but there will be no availability to watch the show after this event. A holiday classic you can watch with your friends, family, or anyone!
We all need a smile these days.
Here's the link - hope to see you there!
« View All News